The major languages according to Wikipedia are:
Arabic, Catalan, Chinese, Danish, Dutch, English, Finnish, French, German, Greek, Hebrew, Hindi, Hungarian,  Italian, Japanese, Korean, Norwegian, Persian, Polish, Portuguese, Punjabi, Romanian, Russian, Serbo-Croatian, Slovak, Slovenian, Spanish, Swedish, Thai, Turkish, Ukrainian, Vietnamese.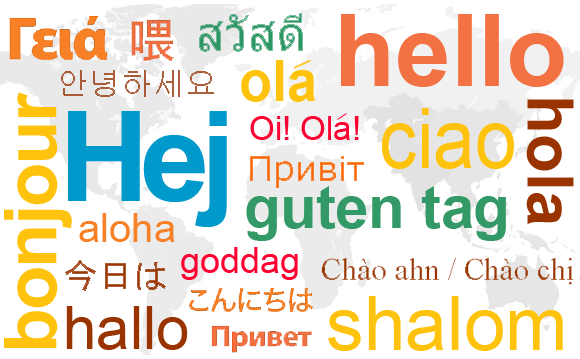 The Complete List of Languages in the world (small area languages not included)
---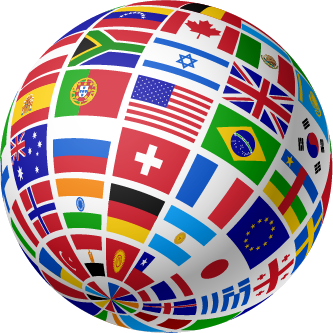 Afrikaans, Albanian, Amharic, Armenian, Assamese, Avestan, Aymara, Azerbaijani, Baluchi, Bashkir, Basque, Bikol, Bhutani, Bislama, Bokmål, Bosnian, Bulgarian, Burmese, Bushman, Cambodian, Cantonese, Cape Verdean, Catalan, Cebuano, Chamorro, Chechen, Chinese, Chuvash Cornish, Corsican, Creole, Croatian, Czech, Danish, Dogri, Dutch, English, (USA) (GB), Eskimo, Estonian, French, Faroese, Flemish, Finnish, Frisian, Galician, German, Georgian, Greenlandic, Greek, Guaraní, Haitian-Creole, Hausa, Hebrew, Herero, Hiligaynon, Hiligaynon, Hindi, Hiri, Motu, Hungarian, Icelandic, Igbo, Ilocano, Indonesian, Inuktitut, Inupiak, (Gaelic), Italian, Japanese, European Kazakh, Kirund Komi, Kyrgyz, Korean, Kurdish, Laotian, Latin, Latvian, Lingala, Lithuanian, Luxemburgish, Macedonian, Malagasy, Malay, Malayalam, Maltese, Maori, Marshall, Mandarin, Marshallese, Masai, Manipuri, Mizo, Moldavian, Mongolian, Nahualt, Nauru, Nepalese, Nepali, Nigerian, Nyanja, Nynorsk, Norwegian, Oromo, Ossetian, Pedi, Pali, Pananyano, Papiamento, Pashto, Polish, Portuguese (Brazil), Portuguese, Punjabi, Rumanian, Russian, Sardinian, Scots Gaelic, Serbo-Croatian, Scopian, Slovenian, Sindhi, South Ndebele, Sudanese, Swahili, Sangho, Serbian, Sesotho, Singhalese Spanish, Swahili, Swati, Swedish, Tagalog, Tajik, Tahitian, Tigrinya, Tsonga, Thai, Tibetan, Tsivenda, Turkish, Venda, Vietnamese, Volapük, Wolof, Tsonga, Xitsonga, Yoruba, Yiddish, Zulu, Zhuang.
---
All our Translations are certified and are accepted anywhere in the U.S. and around the world. The completed translation will be accepted as a bona fide and proper translation by the recipient for whom it is intended.
We, at Lingo2Lingo, offer professional translation solutions for all major languages of the world. You can contact us for translation to Asian languages, Indian languages, Middle Eastern languages, Scandinavian languages, and other languages from different regions of the globe. It is the team of more than 2500 professional translators from across the world that lets us deliver efficiently translated documents.
Translating at Lingo2Lingo is not just about substituting a word by another from a different language. It's about making sure that the message of the source language is precisely conveyed in the target language.
Features of our Language Translation services
Focus on cultural differences – Translating between two languages involves understanding the difference between two languages. For example, if one is translating from American English to an Indian language, he/she should be aware of differences between the cultures. Our translators are well-aware of these differences, which ensure that the text looks like as if it was created in the target language.
 Careful use of idioms & phrases – Translating idioms and phrases is an art in itself. What one is saying in English is entirely different from a Scandinavian language, if translated word-to-word. The translation experts from Lingo2Lingo are well-aware of idioms and phrases from source & target language.
Special rules for some languages – Some languages like Hebrew and Arabic are written from right to left. Therefore, translating them requires special understanding and proper focus. We follow all these special rules associated with different languages.
Grammar and Punctuation – Each language has a unique set of rules for grammar and punctuation. To ensure there is no mistake related to these elements of language, we manually check the translated text.
---
CALL DEBORAH at  LINGO 2 LINGO TRANSLATIONS  
P.O.BOX 27514  SAN DIEGO, CA 92198
 Tel: 858-674-9881       Fax: 858-726-6336