Our service is purchased by organizations and individuals around the world. Below is a list of a few of our current clients and their endorsements for us.

"Quick, accommodating, and reliable, Lingo2Lingo is one of the most reasonably priced translation services for the quality of service provided."
Sincerely,
"Lingo to Lingo has translated many foreign insurance policies into English for us.  We have always found their translation service to be accurate, quick and competitively priced.  We continue to use them for all of our translation needs."
ComplianceSIgns.com is a leading supplier of business information and safety signs.  Our customers frequently request multilingual signs for use around the world.  For the past 10 years, we have trusted Lingo2Lingo to provide the translations of our signs to meet this need.
Lingo2Lingo provides accurate, timely translations in any language we have requested.  They provide this service on small and large projects, and do it for very low cost.  We know that there are several "automatic" translators online, but these frequently miss the context of a translation.  By working with Lingo2Lingo, signs are translated so that the safety warnings are accurate in the country and language our customer has requested.
If you need a translation that is contextually correct, on time, and fairly priced, Lingo2Lingo is the right choice.
Lingo2Lingo Translations has been providing their services to our company for many years now. We have used them to translate marketing materials such as flyers and multiple websites, as well as notices, and technical/legal documents. Lingo2Lingo has always provided outstanding service, quick turn-around times, concise and reasonable billing, and are a pleasure to do business with. We rely on their expertise, and are assured by the "Certificates of Authenticity" that they provide with each translation. Lingo2Lingo makes my job easier, and allows us to reach our valued non-English speaking customers reliably. I have no complaints with Lingo2Lingo, and recommend them highly. ~John Snyder, RHP Properties.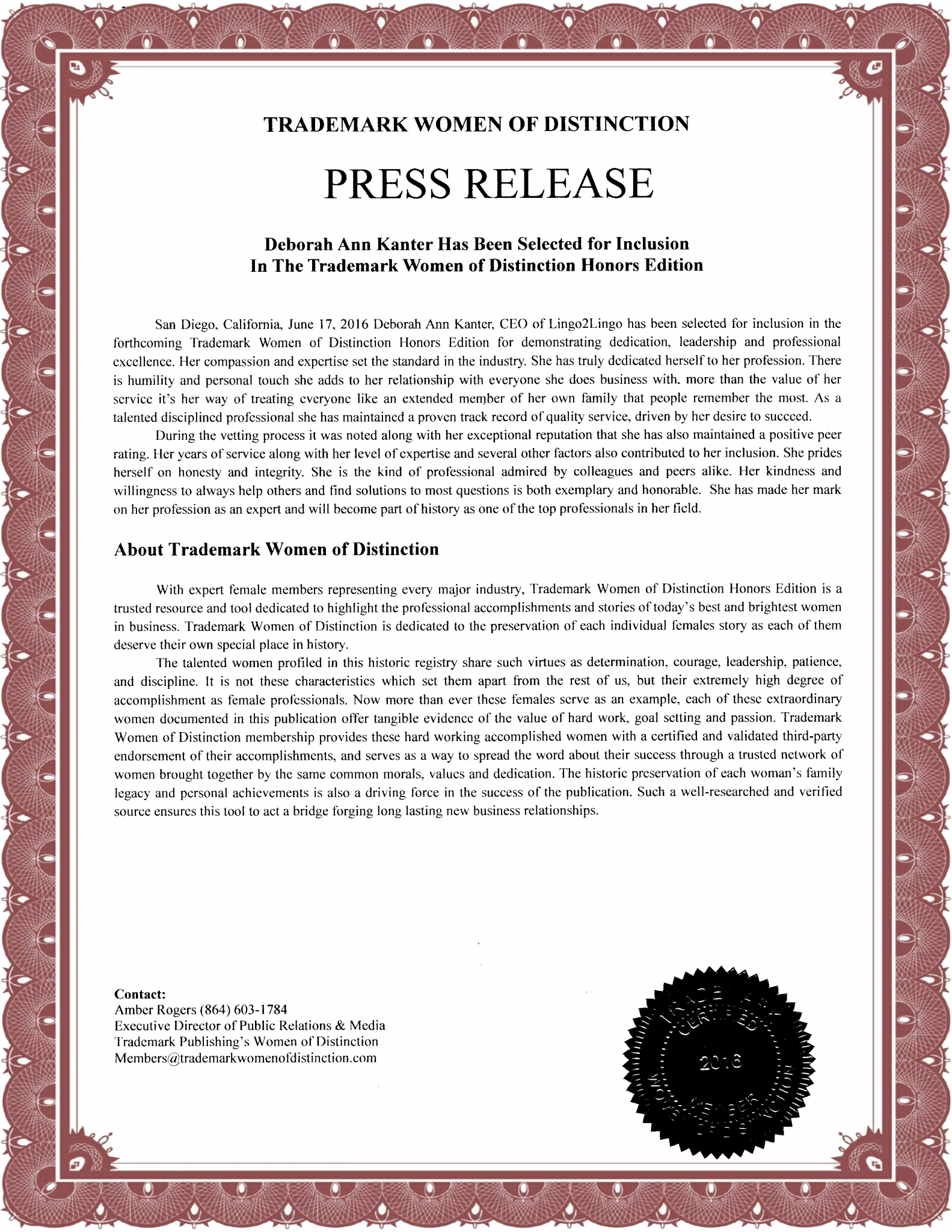 ---
All our Translations are certified and are accepted anywhere in the U.S. and around the world. The completed translation will be accepted as a bona fide and proper translation by the recipient for whom it is intended.
---
CALL DEBORAH at  LINGO 2 LINGO TRANSLATIONS  
P.O.BOX 27514  SAN DIEGO, CA 92198
 Tel: 858-674-9881       Fax: 858-726-6336